7 Tips for Holidays on Budget
Vacation is one of the best things in life; because we become quite abundant in experiences, moments, and learning in each destination.
However, there are times when bills, tuition, rent, and payments for credit cards, don't allow us to save money to take a fantastic holiday, whether you are traveling alone or with your family. We will give you some tips to travel to any destination without spending too much money.
1. Make a plan.
You don't need to make a schedule hour-by-hour of your activities. You just need to know the days you will spend at the destination (you can even open a possibility for extra days), which will help you make the most of your stay. Leaving less to chance means less unexpected expenses; Last minute flights and accommodation are often much more expensive.
2. Travel out of season.
Research about your destination and look for the best time to visit; then travel just before or after these dates. This is called 'shoulder season,' You will still have a great trip, as hotels and airlines lower their prices to attract guests this season. Helping you, the last week of May, or the second week of August are considered low season in Cancun. If you love summer, the months of August or September in Cabo are ideal; in November, it is another option when the weather is cooler.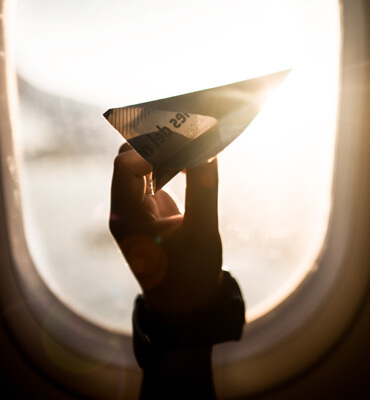 3. Reserve flights in advance.
You can know and book the available seats up to a year in advance, the closer you get to your departure date, the prices will increase, especially in the last month. Choose to travel on Tuesday. Midweek trip prices are lower as a premium added to weekend flights. You will be able to queue shorter at airport check-in and security desks. Although the luxuries and comfort are attractive, traveling in economy class will save you a lot of money that you can take advantage of on your trip.
4. Pack everything!
Pack everything you think you need so you don't have to buy while you're away (apart from some souvenirs). No matter where you go, take at least a pair of long jeans, a warm hoodie, and a waterproof jacket for unpredictable weather incidents. If you still have doubts about creating the perfect suitcase, we recommend you read this blog.
5. Transport yourself like a local and go wherever you want.
In All-Inclusive packages, you can have access to Airport-Hotel-Airport transportation when you need it. But if you wish, there is also the option of taking the local buses that will not charge you much to guide you with all your luggage or take you to all the places you want to visit.
6. All- Inclusive.
Choose All-Inclusive accommodation. You will not have to worry about spending a lot of money on food or drinks, as you want, whenever you want, the options are many. Also, there is an International Menu, so you will always find something you like. All-Inclusive also applies to entertainment and physical activities.
7. Local Entertainment.
All year, there are several cultural or local activities than can be excellent options. You can find information on social networks of your destination and open your eyes wide when walking; some events are post it in the street or walls of food establishments. Now, if you want to get away from the hotel, you can explore side roads to the main ones or explore your destination a little more. You can find delicious and local food and drink offers that you will love.
With these tips, you will be ready for an excellent vacation, no matter if you travel for one or many nights, alone or with the family; you'll save money, but with the same quality that you deserve. We hope to see you in the coming weeks and let us pamper you while you are at your home away from home.