10 Ways effective ways to Ruin Your Cabo Vacation
Don't let the heat of the moment and the city take over your limits and check out these recommendations to have a perfect vacation in Los Cabos.
1. Not Being Careful with the food.
Mexican food is delicious; it is understandable that you want to eat everything you see, but remember that many condiments are used that vary significantly from one region to another. So it is good to take certain precautions. Well, they say that if a Mexican tells you "the sauces are not spicy," do not believe them; It is not playing a practical joke on you on purpose; culturally, we are used to eating sweets or very spicy food from a very young age, so although it is too spicy for you, for us not. So if you go to a buffet, any restaurant or food stand, you can ask for a tasting and ask yourself if you like it; Likewise, you can also ask the kitchen staff what ingredients the dish of your choice has. Now with the sauces, you can taste a drop and know how spicy it can be.
2. Drink until the bottles are empty.
Even your resort is all-inclusive, and you attend tequila or wine events or tastings; you must drink with moderation. In general, after a razzle, the hangover comes, and you will waste days trying to recover; while everyone is in the pool, tanning, or enjoying a walk. For some people, generating fun moments with alcohol in between is part of the vacation; however, it is essential to hydrate and eat well before and during your alcoholic beverages intake. Also, listen to your body and recognize your limits so that you won't miss your itinerary.
3. Wild tan.
Cabo is the paradise of beaches, and it is customary to spend all day on them, but remember, sunscreen is your best friend. In addition to the fact that your skin will thank you for the rest of your life, you can enjoy a trip without sunburns. The recommendation is: Sun at 04:00 PM is better than in the morning or at noon; also, the temperature is usually a little lower, which is an excellent combination with the beach.
4. Spending like there is no tomorrow.
Most of us save money to enjoy a well-deserved vacation later. Part of it is to allocate a budget that includes transportation, lodging, food, entertainment, and emergencies. Much of the itinerary development depends on each traveler, and there are affordable packages for each type of trip. With your budget at hand, you will get a better idea of how much the entire trip can cost without giving rise to surprises. Ideally, before leaving, your trip should be already fully paid, that is, having paid for plane tickets, food, and accommodation. As a recommendation, All-Inclusive resorts can help you save a lot when creating a budget. For a certain amount per year, you can enjoy offers for your accommodation, transfers, food, and drinks, tours, and shows for a single fee.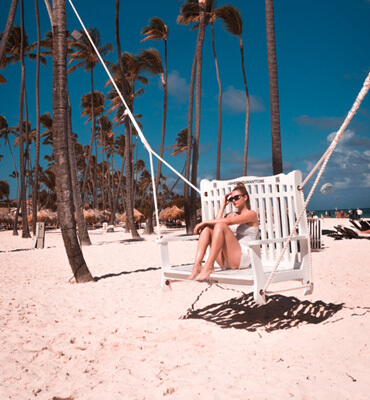 5. Going everywhere.
As the saying goes: "Bird in hand is better than a hundred flying." Expected that if we go to a new place, the emotion makes us want to enjoy the fullest and discover every corner of Los Cabos. Still, in addition to having fun on your vacations, it is also important to rest. Hence, the recommendation is to establish an itinerary with the activities and places you want to know first. You can also use the sites you missed as an excuse to return to Los Cabos many more times.
6. Fly with short stopovers.
Even if you take the plane, do not go flying. All airline deals have fine print to read; some may come with some weight restrictions or very short or very long scale times. There is not so much problem with the latter, but it can be a bit tiring; however, if your layover time is too short, you run the risk of missing your flight. Take advantage of the flight search engines and remember that Los Cabos is a tourist destination with an international airport that connects with 40 destinations in 550 weekly flights. You can find different options that take you to Los Cabos without spending a lot and with the possibility of visiting some places in between.
7. Do not have health insurance.
Currently, each city has rigorous hygiene protocols, so even a possible stomach infection is ruled out, But weather changes with allergies or accidents can change everything in seconds. Practically what medical expense insurance sells you is based on the certainty that you can receive medical attention throughout your stay even if you trip and have a small injury.
8. Staying in a hotel in the outskirts of the City.
Los Cabos is one of the most extensive territories in the Mexican Republic, speaking of which you can visit different ecosystems in one place. There is the option to go all over Cabo, look for cheaper lodging options; however, that money and travel time will spend more to go downtown. It is important to remember that you can find all the action in downtown. The Hotel Zone, where Royal Solaris Los Cabos is, has proximity and means of transport for supermarkets, restaurants, tourist places, and local events.
9. Exploring without knowing the place.
If you love adventure, you will find several places in this beautiful city. However, I remind you that there are many options that some are usually virgins; therefore, there is not always an internet signal or obvious paths to get to the wonders of nature. For this, you can find out with your hotel staff what is the best option to visit different places, or you can take advantage of all the tours they offer you, which have round-trip transportation to the doors of your hotel.
10. Leaving Cabo without enjoying it and having fun.
There may be unforeseen events and changes in itineraries. Still, perhaps the biggest mistake anyone can make on vacation is focusing the attention on the unexpected or possibly harmful travel. Los Cabos is a beautiful place with diverse panoramas for all tastes; don't let anything spoil your visit. Enjoy every sunset, the sea breeze, museums, the aroma of international cuisine in every corner, but mainly the warmth and the smile of the people. Visit Los Cabos as many times as you want.