A Perfect Family Trip in Los Cabos
The best times that we are able to spend with our families is during vacations since this is when we can spend more uninterrupted time together, that is why going to a place that has everything we need is one of the most important things we can do.
And of course, one of the perfect ways to do this is to plan ahead with your family, and of course, I have some help for you since today I will be talking to you about why Solaris resorts are the best all inclusive family resort in Los Cabos Mexico:
My Family at the Resort Royal Solaris Cabo
The first destination I will talk to you about is Los Cabos, here you can find one of the Solaris Hotels, which now has many new features and things you might not know.
The little ones have fun: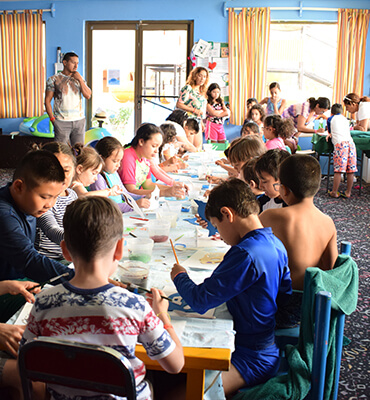 One of the most critical points if we travel with family to Mexico, if we bring small children we want them to have fun, be safe and can enjoy the days with activities.
The right place for them to do so is the Mini Club, where the entertainment Team will take care of them with activities, crafts, video games and even a fun water park inside the premisses.
And if that were not enough, now there is a new attraction that they can enjoy, a Brand New water Slide, where they can spend the whole day, while being monitored by professionals.
Something you should also know, is that on Wednesdays between 5pm and 8pm the Mini Camp is held, this is a camp that the Mini Club team performs, where your children can join to spend a full afternoon of activities with crafts, snacks, tents, an artificial fire and of course their very own explorer shirt.
Although this activity has an additional cost, it is undoubtedly something that your children will love, since they will even have the opportunity to meet the Hotel's mascot, Pancho Solaris!
Moms can also enjoy their vacations.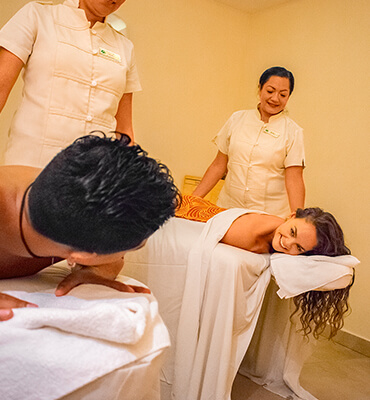 During the holidays the queens deserve to spend quality time just for them, for that, one of the recommendations that I can make to you, is to take advantage of one of the best places to relax.
The SPA at the Solaris Resort in Los Cabos has many of the things necessary to spend an entire day or afternoon in complete relaxation, since they have a large number of services, steam room, beauty treatments, massages, manicures, pedicures, haircuts, hair removal, among many more options.
And if you already imagined yourself enjoying a full day at the spa, you can do it right here without any problem, since you can find packages that cover a full day at the SPA, or If you want to bring your partner, there are packages for both of you to relax and leave the stress behind.
Parents will also have fun: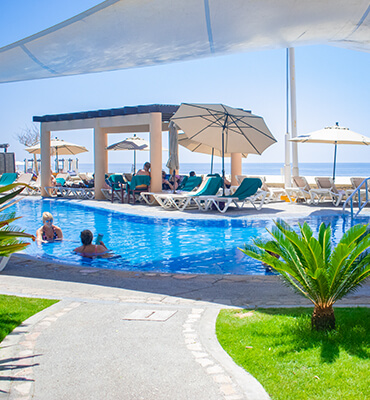 When we go on vacation, parents also seek to get some rest from work, which is why we want to be able to meet other people, enjoy the moment or just spend an afternoon without worrying about having to take out the trash, take the children to school or go to work.
One way to do this is simply to relax at the main pool, where we can enjoy a sunny day and cool off whenever at the Swim-up Bar, where we will be served splendidly.
Of course, here there are going to be activities for all the people that the animation team will be doing, but if what we want is to spend a quiet time without the music or the noise, we can go to the adults only pool area.
Here the waiters will always verify how we are or what we need, so we can avoid a trip to the bar or to the snack, and even better, in this same area, there is an outdoor jacuzzi, so we have the opportunity to rest in hot water to enjoy an afternoon of peace and tranquility.
If what we want is to have a quiet afternoon while we try the different types of drinks that we have this we can do it in the Lobby Bar where the best cocktails will be served , and we can even see the sport events on the televisions that are there.
Mondays we can also enjoy a Tequila tasting, where they will help us to learn the difference between the tequilas that we can find in this Hotel, as well to discover what our ideal Tequila is.
The Best Food for your Holidays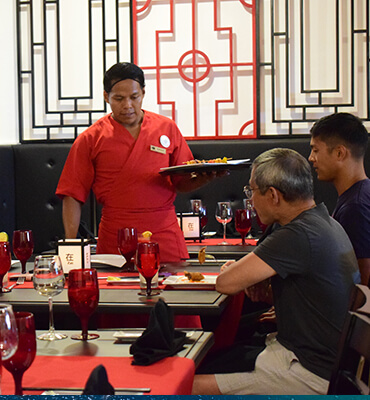 Something that many people forget to take advantage of when coming to this Hotel is that this is an All-Inclusive resort, meaning all food and drinks are included, so you should not be afraid to get up, and pick up another serving of tacos, more salad or indulge yourself with another dessert.
And the best part is that this Hotel has more than 4 restaurants to satisfy you during all hours of the Day; During the morning you can go to Café Solaris or Rosmarinus for a delicious breakfast prepared at the moment, where you can find the best stews, enjoy a freshly made omelet, with a cup of freshly squeezed orange juice, green juice, or even chocolate milk for the kids, or pick up a bowl of cereal, the decision is yours.
During the day you can visit restaurants like the New Cevichería, where you can feel more in "la Baja" when you try the local seafood, served in hard shell tortillas, which come in different presentations with different ingredients so that each bite you give is unique.
Pizzallisima is also located next to the main pool, where you can try delicious pizzas prepared by our chefs, heated to the perfect temperature so that the cheese melts with each bite, of course, you can choose from a wide variety of ingredients for your Pizza, or any of our different specialties, such as Solaris, Mediterranean, Margarita, Pepperoni, Hawaiian, to name a few.
The Snack Bar also opens next to the main pool where you can find snacks to enjoy your time in the pool or food that children like best, such as Nuggets, Burgers, Hotdogs, Nachos, French Fries, among others, these dishes are prepared during the day, so be sure to go grab a plate, so you can enjoy it hot and freshly prepared.
During the day, different restaurants will open, Rosmarinus opens as a buffet where you can find stews, salads, desserts, and ice cream for a hot day in paradise.
Maybe you want some oriental food, and this can be found in front of Rosmarinus at the Sushi Station where these delicious dishes are prepared at the moment, so we ensure that you have a lot of variety to make your Day in Paradise a. great experience.
At sunset, different restaurants open so that your night can be enjoyed in the company of your loved ones, the first restaurant you can find when you come down from your room is Zai Restaurant.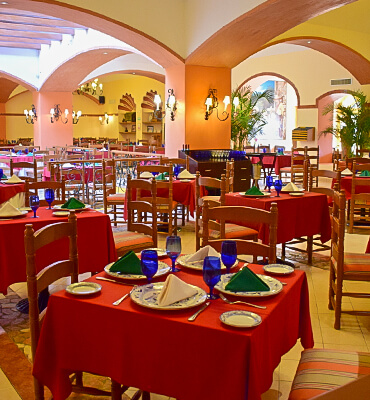 This is a restaurant of oriental food, with different menus that you can try and many options, so that you can taste dishes specially prepared by our best chefs all within a traditional Eastern style atmosphere.
The second restaurant you will see is Panchos, here you can expect to feel in traditional Mexico, the place where you can order those tacos that you love so much, or the traditional "mole", some delicious fajitas or even taste the Rodizio menu that takes place Occasionally in this same restaurant, set with colors that will make you feel in a large house in ancient Mexico while enjoying dinner with your loved ones.
After Panchos you can reach the Marco Polo restaurant, where you can choose if you want to enjoy a romantic dinner with your partner on the terrace next to the central garden, or if you're going to spend an afternoon inside the restaurant, which has dim lighting, to highlight the beautiful murals and paintings that adorn the walls.
Without a doubt, being able to enjoy the exquisite dishes of Mediterranean food served in this restaurant is something you cannot miss; Here you can find cuts of meat, fresh and flavorful salads, delicious desserts among others.
And finally there is the Solaris Café, where buffets and themed meals are held for the different dates and celebrations that the Hotel is made, here you can feel comfortable having a lot of variety to eat, you can find from fresh salads, natural juices, Pork chops, traditional Mexican stews, and much more.
Of course, if you prefer you can decide to take advantage of the room service, and you can ask for the menu that is available for you, the food will arrive at the door of your room, to rest while you relax and watch a movie or TV show.
This Hotel, without a doubt, has everything you need to have an enjoyable holiday, the only thing missing is that you come to enjoy it.
When are you coming on vacation?