7th annual Obstacle race
For the past seven years, the amusement park Xplor, has hosted a Fun race, where you can run, jump, slide, crawl and even roll to complete it, the Name Bravest Race, this years theme ; Evolution.
Yes, as you heard it, the whole campground was decorated, design and themed around the evolution of mankind for over 300 million years on earth: pangea, dinosaurs, xapiens and finalizing with xplor.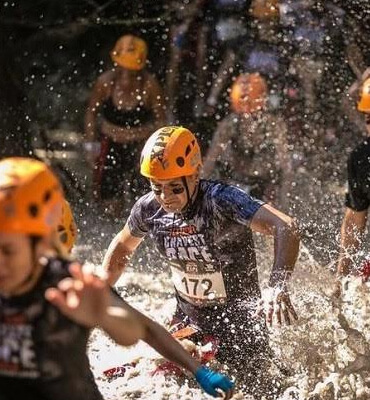 A challenging race, celebrating the 10th year anniversary of the park, this past sunday September 22nd, hosted over 3500 athletes that had to complete a 4 mile course with over 40 obstacles on the 4 stages mentioned above, with two different paths each one, and a certain level of difficulty; and to step it up a notch, there will be a special obstacle per stage, that can grant you an Evolution Gem, if you collect them all, you could obtain a special prize.
The park, has natural obstacles like trails, Ziplines, Caves, ponds and cliffs, that made this an overall challenging Competition, not against other friends, but against yourself, because in order to complete the course, you would have had to train yourself in different disciplines, like Running, gym, climbing and even swimming, all this to strengthen the resistance, and trained you mentally for the task ahead.
Some of the obstacles you could find there were; climbing Walls, jumping off a cliff, ziplining, running trails, climbing mountains, tire obstacles, handriles, rope climbing, water logs, a cavern maze, military crawls and more, each one, harder than the previous one.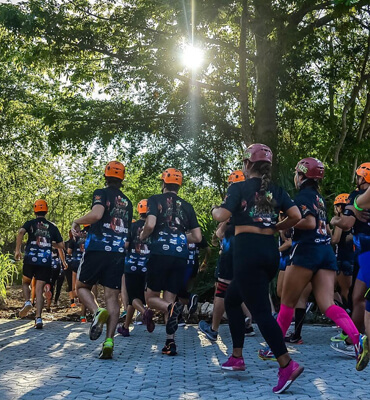 To overcome these challenges, you need to be a tough person, as it will test your endurance, Will, strength and ability to adapt to certain circumstances.
But the Fun wasn't over yet
At the end of the Race, there was a special campground, where the Big Bang party was held, everyone was welcomed to relax, while listening to live music from a band playing on the stage, here you could also see some dinosaurs, cavemen's and other xplor beings.
Also there was a mini race course for kids under 15, so they can too enjoy the full experience. And earn some gifts and memorabilia.
Well, this concludes our sporting activity for the week, if you're an adrenaline junkie like us, we do recommend you to visit any of our Club solaris Cancun resorts, during the course of any of the events, like the Bravest race or the Cancun Triatlón, so you can put your endurance to the test, and transcend as one of the many to finish the race with a Bang, hope you liked our story, and keep coming back to read about our adventures in Cancun and the Mayan Riviera, as many activities will take place in the upcoming months, see you soon!