One of the best things in summer is to be able to enjoy the Vacation time, and continuing with our series of the 9 best things to do in cancun in 2019, today we are going to talk about the Beaches, that you can enjoy, some are to relax, others to swim, and some even to party.
Let me start by telling you that all the beaches in Mexico are Federal property, meaning that the government overlooks them, and they are all for the public to enjoy.
So without Further Ado,I will tell you about the best public beaches to have a great day in the sand and the sea.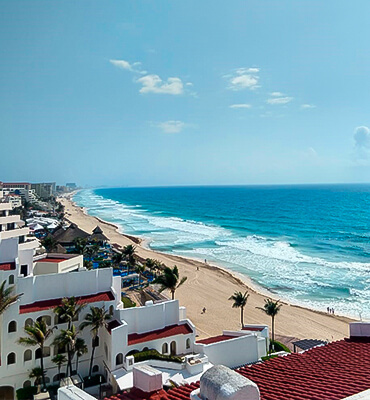 Well as you might know, our Beachfront Solaris hotels are nearby each other, so being the Royal Solaris Cancun, and the GR Caribe by Solaris neighbors, so that means double the beach lenght.
We are privileged enough to be in the mile marker 20.5 km, meaning that our beach is semi private, having only one hotel to out right, and an apartment complex to our left giving us 286 yards of pristine Beach between the 2 of them, that's more than 2 football fields!
In our beach you can enjoy sun loungers , palapas and huts, and the water is calm to be able to take a swim, and in the comfort of your hotel.
At the GR Solaris we have a beach that has over 92 yards also with several suntan beds and palm tree huts, that are exclusively for the use of our guests. There no way on going wrong with that, we also have a Beach volleyball court that is open for all the sports jocks out there.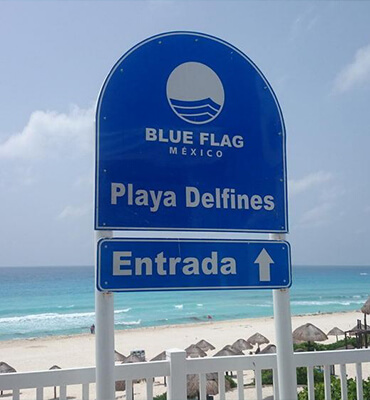 Playa delfines is less than 300 yards away from the GR Solaris Cancun, you can get there by walking on the beach, or on the sidewalk, it's a Beautiful Public beach, that has the Blue flag certification, and most of all it has a sightseeing post on top of the mountain, where you can get spectacular pictures from the caribbean and the different blue colors that the sea has to offer.
In Km 6.5 you can find this peaceful beach, with shallow waters, ideal for the whole family, with ease access, just a bus will take you there, and also with several delicious restaurants in the zone. Another thing you'll find there is a market, since its a harbour that offers Ferries to isla mujeres a lot of passengers go through there daily, and for the daredevils, there is a 75 feet bungee jump tower in the sea.
And adorable beach, the access is very nice, although there is no signs indicating it, this one possesses flatbed sands, that can be just what some tourists are looking for. Not too much beach /sand space, as its been devoured by the hotels next to it.
Another smooth water beach, and one you couldn't get lost, as its just in front of the giant Mexico Flag that enlightens the hotel zone, multiple things to do on the beach,or in the lagoon side.
At the Hotel Zone entrance you can find one of the first public access beaches, called Las Perlas, and with a blue flag certification, no waves at all, makes this beach perfect for families with small kids.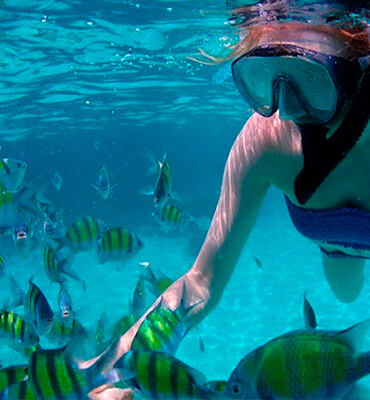 In the heart of the hotel zone, where all the Nightclubs are, you can find this beautiful beach, that has a shopping mall in the back of it plaza Forum, a 3 story high mall, that offers a variety of oceanfront restaurants and has been host to major Concerts in the past years, and the best spring break parties happened here.
Another beach near a shopping mall, this time the Kukulcan plaza, here the waves can be high, so this is a preferred spot for surfers in the early morning or late in the afternoon, the entrance to it is a bit hidden, so you won't find many people there.
Located in km 14.5 and with an access in between to big hotels, this beach offers you relax and quiet time away from all in a nearly perfect white sanded place, they also have water sport activities like Jet Ski and the famous banana.
This sandy beach is located in Puerto juarez, close by the ultramar Harbour, which is the main crossing for Isla mujeres, a Beach mainly for locals because of the travel distance to get there( almost 40 min) but very calm waters are perfect for the family picnic everyday.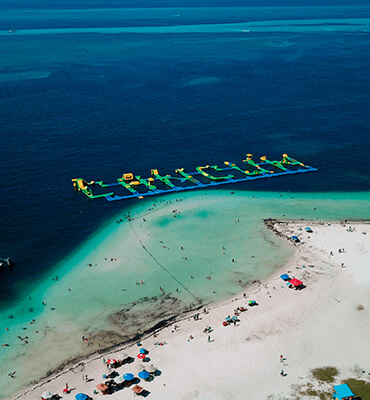 The beach that is located in the 28 km in punta Nizuc, but one of the most beautiful ones, as it's less crowded, and guess what?it's also pet friendly, yes, it allows you to bring your pets following some guidelines between 5 am and 11 am. So people living here in Cancun, or tourist traveling with their pets, can surely enjoy this beach a bit more. Also called El mirador II because it was a sightseeing post.
A really calm beach, located in km 10, where the waves are moderate, but nothing over the top, nice place to enjoy the day in the sun.
Just in front of the solaris hotels is the magical island of Isla mujeres, and on the north side of it, there is a nice and calm beach with easy access form the harbour, you can swim in the water without being hit by waves.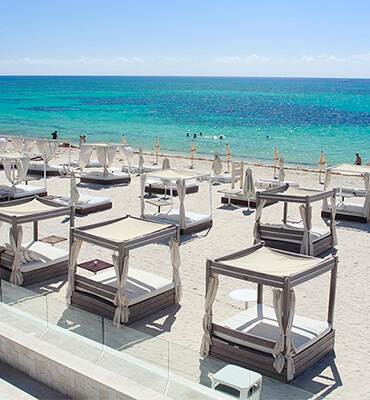 A new location only a couple of miles away from Cancun, is Maroma, a beach with pristine water and where Snorkelers go to see the mesoamerican coral reef, many activities can be done here like horseback riding, and Dolphin encounters.
White beach for miles and miles is the main characteristic of this awesome beach just right next to the Tulum ruins, its powder blue water it's simply astonishing, not many resorts there, so getting a shade or a suntan bed can be hard, but still worth taking the trip.
The fartests on the list, its a low rise beach, where you an your family can enjoy nature at its best fall in love with its charm, and get away from all the noise of the city.
Located in the heart of playa del carmen, this beach is the party central, as it has several beach clubs all over its milage, and also host of the biggest open air concerts in the region. Several restaurants nearby, and also the hottests nightclubs in town.
As you might remember, Cancun has 7 beaches that are Blue Flag Certified - this is an award granted by the FEE (Foundation for Environmental Education ) and measures several key point in regards of security, services provided, water quality and more.
This are other options to enjoy some of the beautiful beaches that this destination has to offer, as I told you in the beginning, the Soalris beach is the perfect place to enjoy a day of Rest and Relax, but if you're looking for a change of pace, like fully calm water, a party beach or even a pet friendly beach, well, you can go and explore on your own some of the options provided.