Visiting Dolphins in Los Cabos
The destination of Los Cabos is well known for the countless attractions it has, from rides on ATVs and zip lines, things we can do with our whole family, and even boat trips to beaches known for their great marine life where we can do snorkeling.
Los Cabos is a destination that has the best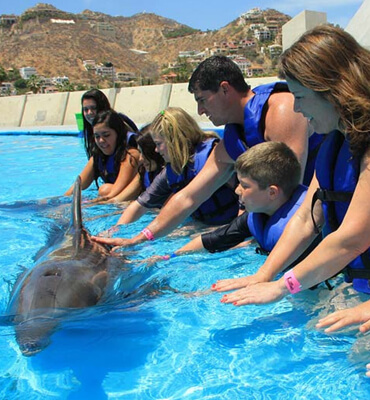 Today I will tell you about another attraction that this destination has, that undoubtedly many people can enjoy, have good memories and at the same time they would be helping to conserve the environment.
One of the activities that animal lovers love is the opportunity to meet these creatures without disturbing them in a calm, cheerful and friendly environment, and this is precisely what the Dolphin Experience in Los Cabos offers you.
This activity can be found with the tour agencies that are inside the hotel, where you can have the opportunity to play, hug, and even swim with these cute, fun, and kind creatures.
The Dolphin Experience lasts approximately 40 minutes, during which you can see how they perform tricks, interact with other dolphins and even play with their coaches and with the loved ones that accompany you, without a doubt, this is an experience that you have to live.
Something also essential is to know what Tour includes, that is why here I leave you what this activity includes when you make your reservation.
Your Tour will include:
Towel
Bottled water
Lifejacket
Lockers
Neoprene suit (in winter)
Transportation to and from the hotel in an air-conditioned vehicle
Fortunately, this activity is not far from the Solaris Hotel in Los Cabos, as you can enjoy this activity without any worries.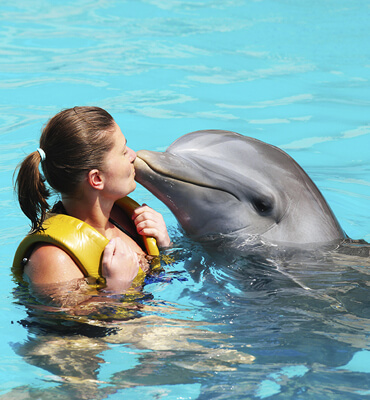 But of course there are security measures that have to be taken to protect and prevent accidents or that the dolphins get hurt, so make sure you read the rules that I share, so you can enjoy this activity in the best way.
Requirements for the Dolphin Experience
Minimum age: 4 years old
All children between 4 & 9 years of age must be accompanied by an adult while they are in the water (16 years or older)
Children's prices apply to children from 4 to 9 years of age
Children 10 years old and older are considered as paying adults
The cameras are allowed only in the observation area
It is not permitted to wear jewelry or sunscreen
Lifejackets to be used must be provided
For your safety and that of the baby, access to pregnant women is not allowed
Young and old can enjoy a day full of excitement and fun with our aquatic friends. Certainly, something that you should not forget is to bring your camera with you, and even if you have the opportunity to bring a waterproof cell phone with you, be sure to ask the guides if it is allowed to enter it so you can take a selfie with the dolphins.
Something that you should not forget is to take some money with you if you want to buy a souvenir or one of the photos that they offer during the activity.
If you want to take advantage of this opportunity for your next vacation at the destination of Los Cabos, make sure you come prepared, all you need is to go and have fun and meet the dolphins!