Rain won't stop your vacations in Cabo!
When we talk about a destination like Los Cabos, we imagine the beach, with a sunny and warm climate to enjoy the company of our loved ones, and it is exactly like this for most of the year.
But there is a small part where in this beautiful destination, there is the possibility of rainfall in the weather, and you may be wondering, what can I do if it rains while I am on my vacations at the Royal Solaris hotel in Los Cabos?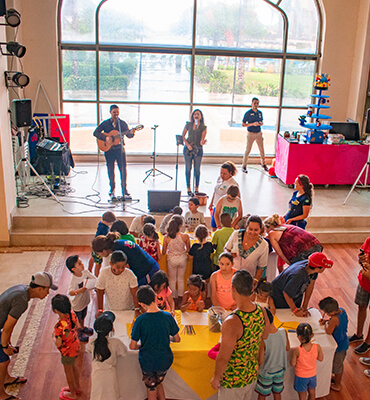 Of course, the Solaris Family is prepared so that your holidays continue to be the best even with the rain, it is for this reason that today I will tell you what you can do on a Rainy Day at your Hotel in Los Cabos.
As we all know, during the holidays, one of the most influential people who are also those who require more entertainment without a doubt are young children, that is why one of the main things that are done is to move the activities and the MiniClub team towards Lobby.
Right there, the activities are carried out : face painting, crafts, drawings, paintings, among many others. All this so that they can have fun and be entertained while you decide to use the hotel facilities.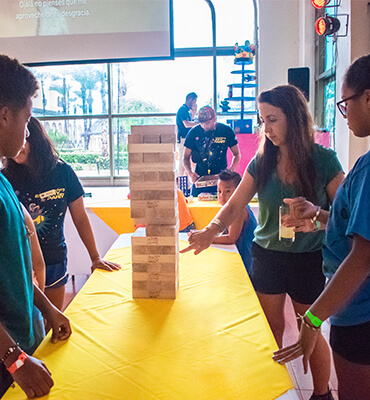 If you decide to join the games and activities for children, you will also have the opportunity to play with them the different board games that we have, among which you can find: Connect 4, Jenga, Scrabble, Twister, and Many more!
Among the areas that you can enjoy of course is the Hotel Spa, where you can enjoy a relaxing massage or even take a quiet and warm time for yourself in the jacuzzi we have, in the same way, you can take advantage and rest and exfoliate in our steam room.
If your thing is to exercise, you do not have to worry because you can use the gym where all the equipment, weights, and exercise bikes are located so you can utilize these facilities, as they are indoors.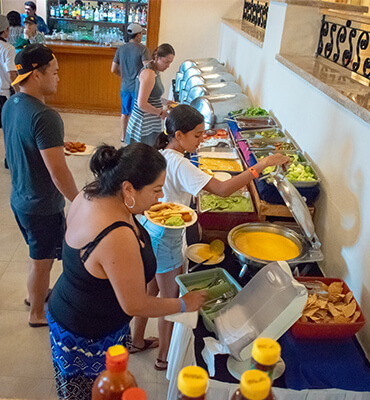 You may be hungry, and to everyone's delight, a buffett bar is also mounted inside the Lobby, next to the bar, where you can taste different stews, and snacks and enjoy a quiet day with your loved ones, and of course if you want to see your children have fun while you enjoy a drink from the bar and a snack from the food bar, you can do it at the different tables around it.
And to do everything better, the Lobby waiters will be at your disposal to bring you drinks in case you need another one.
Something that can not be missed to improve the Day without a doubt is Music, and that is exactly what you'll have to make the occasion better since you can count on the presence of musicians who will play live to lighten up the atmosphere; in case they do not have the musicians there will be a DJ who will put the Music requested so that everyone can still have fun.
Another activity that you have for these occasions is the screening of movies in the Lobby, where, with some snacks, drinks and your loved ones you can enjoy a function of the most popular films.
When the afternoon arrives, you don't have to worry about entertainment, since you can find it at the Tehuacán Theater where the extraordinary show of the Day will be waiting for you, so that your loved ones remain amused.
Without a doubt, a rainy day can not stop the fun in one of the Best Destinations.
We will be waiting for you in Los Cabos!