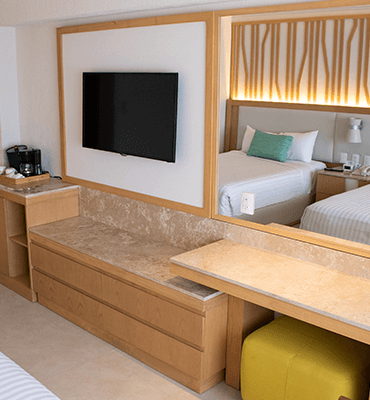 We are always looking to improve, to provide the best to our guests. Upon October 1st, 2018 we began with an exciting project of a total remodeling of the Royal Solaris Cancun resort, which will change the decoration of the hotel completely to a modern and tropical Mexican style that you will surely love, with new furniture in all areas and lots of lighting.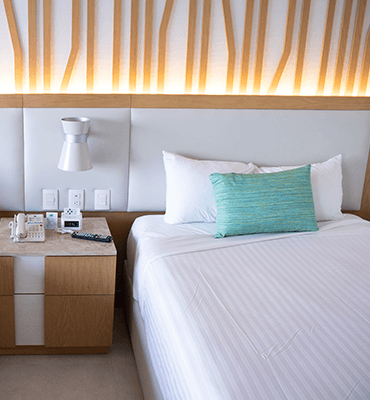 We are very happy to share with you that the first stage of this remodeling is ready, the rooms now look better than ever, with the light colored wood furniture that goes perfectly with this tropical destination as it also creates a more spacious, bright and modern ambiance, with decoration elements, lights and new furniture that will make your stay much more comfortable and pleasant.
The rooms still have the necessary furniture such as a full closet, coffee table with two chairs, bedside table, a drawer with space for the suitcase, and a stool to use the desk, in case you need to work during the vacation, or to upload your best pictures to social networks.
Subsequently, with the same visual concept, this remodeling will gradually take place in the different areas of the hotel such as restaurants, pool area, bars, lobby reception and much more for your comfort. Soon we will give you the updates of the rest of this great project, so that you know what to expect when you travel to your home, the Solaris Resorts.
We invite you to come and try the new, comfortable and beautiful rooms and fall in love with this beautiful destination in your home away from home. We will wait for you!