Extreme Sailing Series in Los Cabos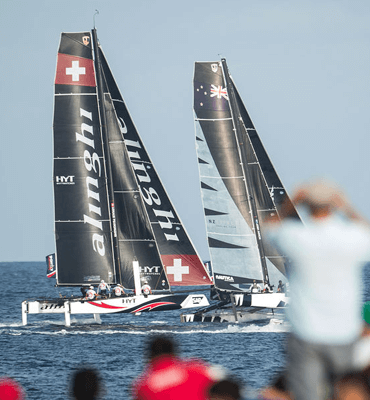 Los Cabos is a place where everyone can have fun and enjoy themselves, home to international competitions such as: Bisbee's, Cabos Film Festival, Tennis Competitions and much more, and one of the more intense sports, Sailing.
You might think, 'Sailing?, how can Sailing be intense or extreme?', it sure is, we invite you to keep on reading, so you can find out about the Extreme Sailing Series that happen in Los Cabos.
The Competition 29 Nov- 2 Dec 2018
The Extreme Sailing Series, is an International event held their grand finale of the 2018 season. The teams battle for the final time and, with double-points for the Act up for grabs, everything was still at play.
The 2018 Extreme Sailing Series is in his 12th consecutive year, with the global tour confirming the schedule that included eight major cities in three continents. The grand finale took place in Los Cabos, Mexico. Established in 2007, the Extreme Sailing Series is the original 'stadium-style' racing circuit designed for spectators, delivering high-performance action close to shore, attracting some of the world's best sailors racing hydro-foiling GC32 catamarans on short courses around the globe.
Fans around the world follow the action via the free live online streaming and the live TV coverage, as well as those who are in Cabos, and get close to the podiums where the racers arrive at the ending of this competition.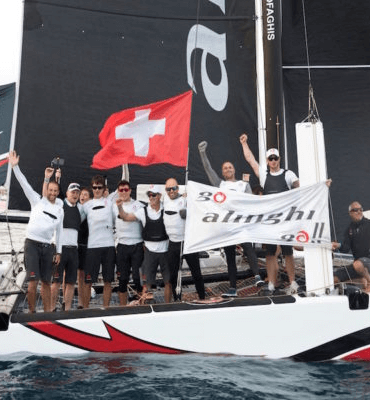 This was their Competition calendar for 2018:
14 - 17 de March - Ley 1, Muscat, Omán
24 - 27 de May - Campeonato Mundial GC32, Lake Garda, Italia.
14 - 17 de June - Acto 3, Barcelona, Spain.
5 - 8 de July - Ley 4, Portugal.
9 - 12 de August - Ley 5, St Petersburgo, Russia.
24 - 27 de August - Ley 6, Cardiff, UK.
18 - 21 de October - Ley 7, San Diego, USA.
29 November - 2 December, Ley 8, Los Cabos, Mexico.
What could I look while I'm Cabos?
Hop on a boat trip to witness the majestic whales that swim just off the coastline or get on one of the many tours that there are of this beautiful destination, you could fo to one of 'El Arco' of Cabo San Lucas, which is one of the most iconic and popular places.
Swiss team victorious in 2018
For the fourth time in their eight-year history of competing in the Extreme Sailing Series, Swiss team Alinghi took the coveted championship title after a remarkable final in Los Cabos, Mexico. This phenomenal feat makes them the joint most successful team ever to participate in the world-class, globe-trotting foiling circuit, level with former competitor, The Wave, Muscat on this Monday 3rd December 2018
Los Cabos rounds off an exceptional twelfth year of the Series that captivated audiences all over the world. Visiting seven countries across three continents, the ultimate and unparalleled sailing experience for fans and teams alike.
If you want to know more about the different kinds of competitions that are held in Los Cabos we suggest you to stay tuned for more and as always, we'll be waiting for you!