Remember a while back we gave you a list of things to do while visiting the beautiful city of Cancun. Well it's time we get deeper into the subject, and literally we will go deeper.
Today we are going to talk about one sport or activity that is practiced in destinations like ours, at crystal clear water, a vast marine life, with beautiful coral reefs, and more. Yes we are talking about diving.
With more than 180 miles, the second largest coral reef in the world starts in this part of the caribbean here in Cancun, the Great Mayan Reef! discover a espectacular Ecosystem that is the home of diverse marine species.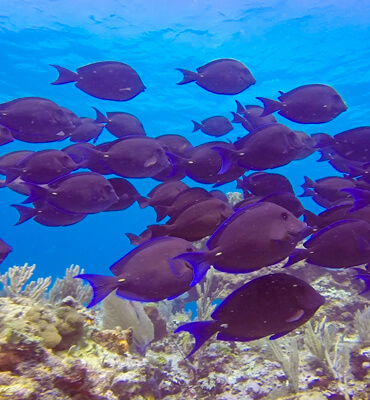 First is the Snorkel or surface diving type, where with the help of a underwater mask, and a breathing tube, you can dive in shallow waters to explore the nature at its finest, you can dive several times, or just swim with your head in the water, breathing by the mouth. Here at Solaris, the Sol Ha agency has snorkeling tours, to puerto morelos or in the Cancun bay, check pricing directly at our travel agency inside Solaris hotels.
Second one is Free diving, this one does not require any type of breathing device, with only a set of goggles, the exercise is to hold your breath, while you dive into the water and swim, admiring the landscape of the sea floor, something you can do easily in Cancun as there are depths under 10 feet.
Third one is Scuba Diving- for this type of diving you do require a basic training course, or for the experience divers a PADI certification, here you will need equipment such as wetsuit, fins, oxygen tank and underwater mask, with the basic training, you will learn how to navigate underwater, control your pulse, and regulate your breaths. You can dive with one or 2 oxygen tanks. This is practice for depths bigger than 10 ft, where the marine world is totally different.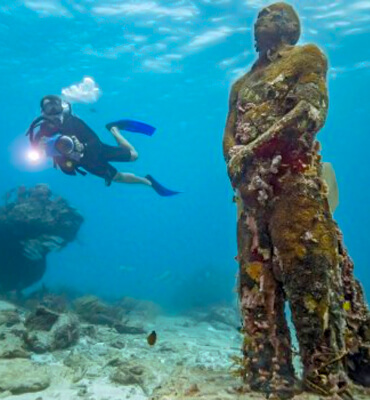 Mexico is a paradise for the Scuba Divers, as there are many hidden treasures in the caribbean waters. The three best places to dive into the Mesoamerican Reef, are Isla Mujeres, Puerto Morelos city and Cozumel as its water is crystal clear and the flora and fauna there is astonishing.
At Isla Mujeres you can find the Underwater Mueseum, (MUSA) , which has 500 underwater statues, that have developed its own ecosystem
In Puerto Morelos you can admire the amazing coral gardens, colorful sponges and incredible marine life, that the great coral reef has to offer us.
Cozumel is Divers heaven, in its blue magic water you can find deep into the sea: cannons, anchors and cannonballs, hidden in underwater walls and coral formations.
Cenotes - There are multiple underground sinkholes, all over the Riviera Maya, this mystic places of natural water are a dream for divers that love to explore caverns, and underground pits.
Special mention to another activity to enjoy the Coral reef: BOB (breathing observation bubble ) I did this a couple of years back, when i was not as good as a swimmer, it's like a scooter with a helmet, you just breath normally and ride around in the motor powered bike the oxygen tank in the device, gives you 30 min approximately, great activity for the kids, and people who don't dive often.
Well there you have it, another activity to do while visiting Solaris Cancun, you will surely gather some great memories , we hope to see you soon, and for you to live this wonderful #SolarisExperience.