Get in touch with Nature
One of the many advantages of Traveling to Cancun, it's that you can get in touch with Nature, explore mystical places, and interact with the Flora and the Fauna of the región.
Continuing with our series of the best things to do in Cancun in 2019, today we will talk about how you can get to know a little bit more of Nature and other life beings there.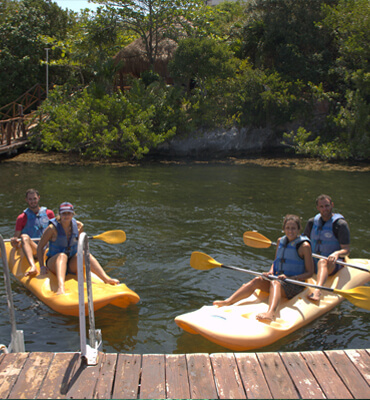 FLORA
We will start off, telling you about some activities you can do outside the hotel, some near, and some far, but both gratifying as you can connect 1000 % with the wilderness.
Kayaking in the Mangroves
This is a great activity to do alone, or with your partner, just in front of the hotel, we have our own Solaris Marina, where you can find several non-motorized water sports vehicles, that you can use to explore the mangroves of the Nichupte Lagoon. A beautiful place that will showcase some landscapes in the middle of the water. We advise you to do the Kayaks or pedal boats to get there faster.
Camping in the Sian Ka´an Reservation
This is a beautiful protected space, that is just a few miles away from Tulum, here you can find beaches, dunes, coral reefs, and a magnificent jungle, with over 300 species living there. Sian ka'an translates from the Mayan language as the place the Sky is born. And the best part is that you can spend a night there Camping, they have an exclusive zone allocated for travelers who want to sleep with the shining stars in their heads and the calm ocean waves. Just remember there will be mosquitos and other insects nearby, so protect yourself with enough repellent.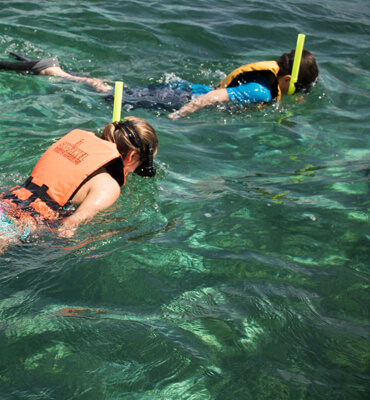 Snorkeling in the Grand Mayan coral reef
Yes, once again snorkeling and getting to explore the underwater world, can connect us with nature in different ways, admire the hidden gems, and diverse species that live in the sea, think about how big is the world, and how every living being contributes for its balance.
Walk by the Mayan Ruins
The Mayan Riviera has a high number of ancient Mayan Ruins, and more to be discovered yet. At these places you can feel the mystic energy that is all over the place, the most famous ruins are: Chichen Itza, Tulum, Coba, Ek´balam, and the closest to the Solaris Hotels in Cancun are: El Rey, San Miguelito & El Meco.
FAUNA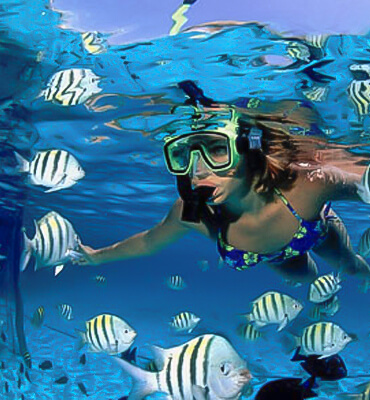 We have talked before about the different Zoos we have in the Región, like the Bel air Zoo, and Crococun, or even Xcaret, which in some of the cases you can pet the animals, as they have been raised in a controlled environment.
But let's talk about what we have more here in the región, the vast open Sea, and its Sealife.
Swim with all types of Fish
Xel Ha is a fantastic place where you can take your whole family, or come by yourself, as it has it all, It's the largest open-air aquarium in Mexico, here you can see how the Sea, blends in with the lagoon, where thousands of fish species swim freely, you can dive with them, as Snorkeling is the main activity in the park, having several marinas from where you can jump in, or explore the sunken submarine, where you can find colorful species wandering around. They also have interactive programs and Sea Trek with Dolphins, Manatees and Sea rays.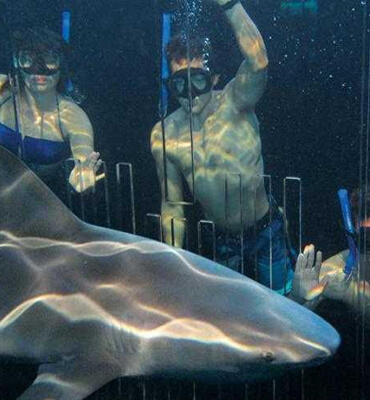 Swim with sharks
Cancun Interactive Aquarium located in Plaza la Isla is 10 minutes away from the Solaris hotels, it's a big aquarium with 13 fish tanks and more than 140 species that live in the región, allows you to interact with Sea lions and Dolphins or touch Starfish and stingrays; but the top attraction in their main fish tank, they have re are some Bull sharks, that you can interact with - of course, all of this after going thru a training course, and behind an acrylic box that its submerged into the water so you can feed them. Beware the water its at 70 degrees, so better use a wetsuit.
Swim with Dolphins
You are able to swim with dolphins almost everywhere in Cancun, you can do it at different places, all owned and run by 3 major companies with years in experience, the Following places we are about to mention, they not just train the dolphins, but they also teach you part of their history, and how to do things to preserve this beautiful species.
Dolphinaris with 5 locations on the Riviera Maya, and one of those at the end of the hotel zone, inside the Ventura park complex, here you can do activities from being a friendly swimmer to being a trainer for a day, plus on the bright side, you can enjoy the park with its other 6 worlds.
Dolphin discovery a tour and facilities specially designed for these adorable and intelligent animals, with 5 locations all over the Mayan Riviera, being the most popular the one located on Isla Mujeres, where you can choose to either just hang around dolphins in the water, or swim with them in one of two interactive programs.
Delphinus with 6 natural habitats and an Aquarium, Delphinus most visited place is in the heart of the Hotel Zone in Cancun, where you can interact and swim with these beautiful creatures, a dream come true to any child and some adults a truly unforgettable memory.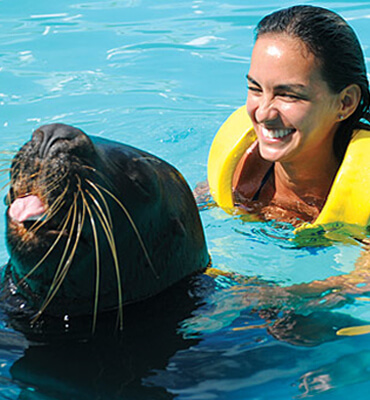 Swim with Sea Lions
These amazing creatures, the kings of the rocks can be found in Cancun in several spots, one of the best one to do it is inside the Chankanaab national park in Cozumel, where you can do activities with this playful animals, they love to swim and do tricks, and if you're lucky enough they'll approach you and give you a wet kiss.
Swim with Turtles
Not everybody will have the opportunity to swim with turtles, or want to do so, as they see these fish as an endangered species, well in Akumal which by the way translates from Mayan as The place of the turtle you can find two species of then, the Green one and the loggerhead, who are very calm, and allow you to swim real close to them, here they nest between May and November, and chill in the relaxing bay that is protected by a coral reef wall.
Swim with the Whale Shark
Holbox is an island near Cancun, that is very peaceful, here you can find a colony of pink flamingos, and other birds and marine life, like the bioluminescence at nights, but they also host a very special friend in the Whale Shark, a gentle fish ( not mammal ) that cruises the sea, from June to September, you can swim with them at a close distance, don't worry, these sharks are not aggressive, although they do measure over 40 ft long, this can be an experience of a lifetime.
Most of the times, you can also catch some manta rays swimming nearby, eating some plankton just as the whales do.
This sums up the things you can do, while visiting the Solaris Resorts in Cancun, as always, please protect the environment, not only the animals, but also the plants, the trees, the sea, don't throw trash, not even cigarette butts, always pick up behind you, do not feed the animals, as the food you might give them, is not on their regular diet. Use biodegradable products to keep natures balance.
We cannot wait for you to come and visit us at The Solaris hotels, and for you to live this enjoyable experience.