My Bad trip to Balandra
Hello fellow readers, Today, I am going to tell you about my monthly trip to explore the surroundings near Cabo and its natural Beauty, the destination picked was Balandra, roughly 3 hours away from our Royal Solaris Los Cabos.
Don't Get me wrong, I absolutely loved Balandra, but the reasons for this article, are:
1. For you to know about the place, and what to do there.
2. To avoid the same mistakes as me.
I still had one of the Best times of my life! So lets start.
Road Trip
As I mentioned earlier, the ride from the Cabo Resort to Balandra (that is actually near the City of La Paz is about 3 hours, a pleasant ride, as the roads are just great, and you never get bored, along the way you can see the coastal line to left, desert and mountains to your right, and Cactuses, lots of them!
You might ask yourself what could be wrong with that? well, the answer is simple, and some sort of foolish on our part, my group of friends and I drive all the way there, first time doing it in that direction, so the common sense is to type the Address in the GPS (or Google maps as we did) and here is where we made a mistake, we typed: Balandra, and hit the first search query, well as it turns out, instead of going to the actual Beach, we arrived to a street called the same way in the City of la Paz, not such a big deal, but it was a 20 minute detour, that we might have had more time enjoying the Beach.
TIP: when typing the address. Look better for the port of Pichilingue, and keep driving that road until the end, or try balandra mushroom rock ( I'll explain to you below) dont type Balandra Beach, as the results could also lead you to another street with that name, better yet, drop by the Cabos travel agency inside the hotel and let them drive you over there.
The location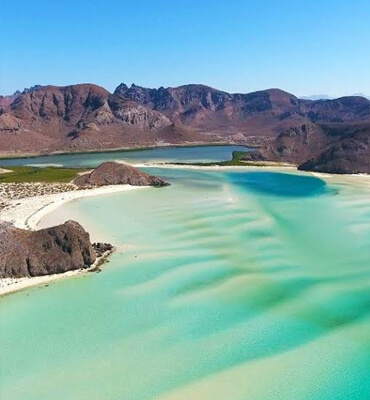 Just let me put it like this: WOW, it's a partly virgin beach, the first thing you see when you step out of the Car is the Clear blue water in a bay surrounded by hills, if you saw the movie the beach with Leo Dicaprio, is just like that, the sand is pure and soft on your feet, inside and out of the water, a dream place indeed.
Now here comes what went wrong with us, as I told you is a secluded beach, so there are a few huts or palapas for the public use, but by the time we arrived (11 am - remember we got lost) all where taken, and we didn't bring any umbrellas, No biggie, we did brought Sunscreen and Suntan lotions, But I forgot to apply the basic rule of my blog taking care of your skin while on vacations, RE-APPLY suntan or sunblock lotion each time you get out of the water. I did one more time after the initial one, but then forgot, as I was having an amazing time, and yes got burnt in my back part of the arms, nothing serious that aloe vera lotion cant fix. So protect yourself and do follow instructions.
There is a medium size parking lot, porta potties and trash containers in that area, so the visitors can properly dispose of the waste; there is also palapas on the beach, and some informal salespersons, no restaurants or propper stores, also at some point of the day, there is a truck that rents umbrellas and chairs, another option as always.
What to do there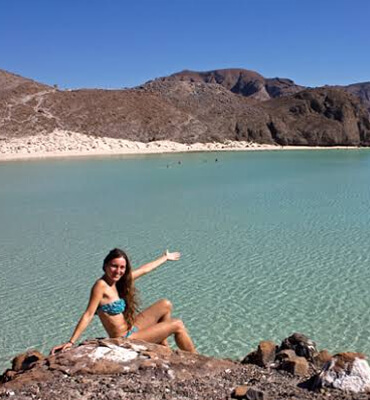 Well the water was perfect, it's like a Big swimming pool, with the water not covering your shoulders on the deep part ( am 5 ́5 ́ by the way) there you can opt to just take a swim, walk, do some snorkeling, as there are plenty of fish in the area, even some clear eels, that at first sight, they swim very hard to get away from you, there's also a person there renting Kayaks and paddle-up boards for $25 usd an hour.
But one of the main attractions is to visit and ancient rock formation called the Mushroom, because of the Erosion of the Water through time, the Rock, has taken the form of a Big mushroom.
To my surprise that rock, in on another bay, next to ours, Yes another Bay, just as beautiful as this one, that is partly divided by one hill, and here comes my regret, as it was early, I decided to follow some people going there, there's no other way to it, but inside the water, so i was following 2 people, who were headed over there, by walking next to the hill, where there a lot of rock, guess what ? I slipped and scraped my knee, it was just a small bruise, but still I bled a little, and Yes before you ask me, I was wearing a hard shell Water shoes, but the rocks had lama on them, and it is what it is, got a small reminder of it to share.
The Solution, stay away from the rocks, and the hill, the water IS shallow, so you can actually walk in the middle of it, and get to the Mushroom, to take pictures, as an Advice, and in order to keep places like this protected, DO NOT climb the rock to take pictures, people have fallen down from it, with more severe injuries, or you could even damage that landmark permanently.
Time to Eat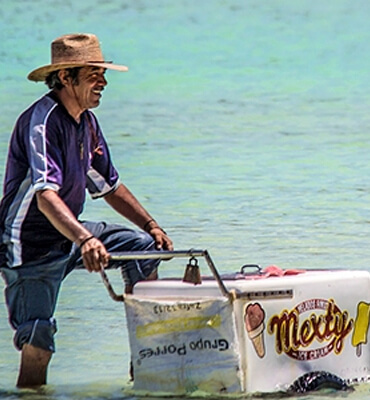 Well, as I mentioned before, there are no Restaurants in the Area, and we just brought some Water and soft drinks ( and trash bags for the waste ) so we were a bit hungry and didn't want to leave - as there is a restaurant in another beach 5 min away, stay calm, as the people selling things are always there to save the day, there's a lady selling some sweet bread, and a boy offering some fresh cut Fruits, like cucumber, watermelon or mangoes, There's even a Guy selling Frozen ice popsicles inside the water ( he's already famous for this )
And you are imagining that what I ate, got my stomach upset , NO no no, the treats where great, all handled properly, inside plastic bags so no sand can get in them, I order a cup of fresh mangoes, I have a sweet tooth as you know, but to my surprise I wasn't the only one, as a small swarm of bees started to overfligh me and my lunch, Daring those little fellows might I say, until one of them sat in my neck, and when I tried to scare him, you know what happened next right ! got Stung by a bee ! time to leave my other half of the mango in the trash so they could eat it, A victory for them ill give them that.
Solution so you don't make the same mistake : don't order anything to sweet, that can attract them, or bring your own food, some protein bars, chips, or peanuts should do, also once in a while a waiter from a restaurant from the other beach, swings by, and offers the service of bringing you food, not so bad, as the price range is between 10 - 15 usd for a complete meal, the kicker here is that it takes up to an hour to get here.
Trekking
Well, 5 hours inside the water should be enough right? Time to set Free the explorer in me, as I mentioned, there is a small Hill, dividing the bay, and several other mountains nearby, that have paths for climbers to take hikes, there's all sorts of distances and difficulty levels, I opted for the one nearby, no more than 100 feet up, and took me only 12 minutes to be there.
But guess what, since we were going to the Beach, I didn't bring tennis shoes, only my water ones, so that was not an easy path to endure with an uneven terrains and small rocks, Didn't fell tough, but I twisted my ankle a bit.
But Seriously, have you seen our header picture that was taken by me up there, believe me that's only half of the bay, there such peace up there, and an amazing panoramic view.
Recap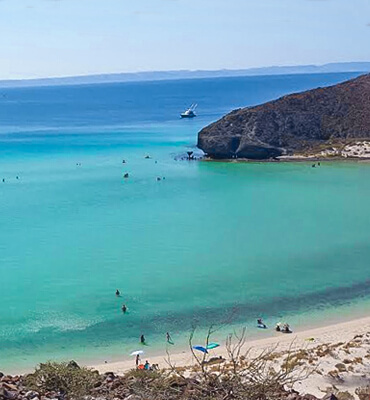 Balandra has landed into my Top 10 of most beautiful beaches in Mexico, water is shallow, clear to do Snorkel, peaceful to just lay down in the water all day long, and has some stunning views, perfect for making great memories.
The best recommendation I can give you :
Hire a tour that takes you there

Don't forget to pack a beach towel

Sunblock and suntan lotions ( and use them constantly )

Extra clothes ( and Tennis shoes ) your swimming suit

Sunglasses, hat, snorkeling gear, an umbrella ( or arrive extra early)

Food that can fill you up, but can also stay fresh ( noting with too much sugar coating)

Camera, or phones fully charged ( they sell phone water cases there )

Very important a trash bag, so you can pick up any waste after.

Please help us keep clean the beach, and the overall environment, We all need this and to recycle each time we can.
Hope you can learn, and apply this recommendations on your next trip to Balandra, and Cabo of course, we will be waiting for you.