Spring break is here, and one of the favorite destinations to go and relax from class is Cancun, yes you will be able to Rest and Tan under the Sun that hits the Caribbean beach, and even participate in sports matches against other schools, on the day to day activities from the Resort.
But what about, when the Sun goes down, what else is to do in Cancun you might ask?, well today I'm going to give you the Nightlife tour.
Cancun has a great variety of Nightclubs, Discos, and bars, in the hotel zone, where I could find Vegas-style night shows, concert halls with world known DJs, and all kind of Bars where there are music rhythms, like Jazz, Rock, Reggae and more.
This compilation of nightclubs I am doing are ordered alphabetically, so there is no preference one from the other. Most of these Nightclubs are in the heart of the hotel zone, and only 20 min away from the Club Solaris Resorts.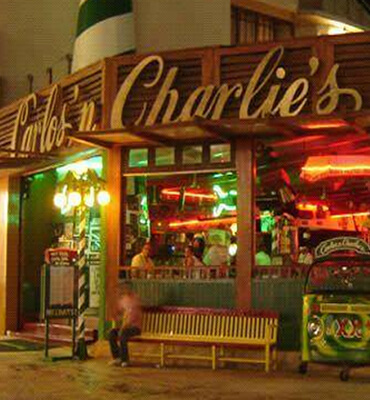 Well let me tell you that this Is a chic nightclub located in the most exclusive zone in the city, It's not hard to get there, but you do have to take a Taxi, it is small, but the architecture is just beautiful inside, they only allow up to 250 people, that's what makes it very exclusive, they have a combination of Pop/ Electronic music from Thursday thru Saturday that kept me dancing until 5 am in the morning, there is a cover charge, drinks are above average price, nothing to break the bank. Oh and one last thing they have a 23 or older entry rule.
Yes I know, it is a family Restaurant but is also a fun bar, this is the perfect combination, I went there to have dinner, and stay to enjoy the show, Sing and Dance alongside the Waiters, man it is a great experience, they feature either a live band, or music from the DJ, the staff is always joking around, making your time really pleasant, the food is delicious, and they also have an open bar, great combination right ? I went in on my bathing suit and Slippers, so you're fine as no dress code is required, not expensive at all. I did miss Thursdays Salsa class, that means I'll be back soon again.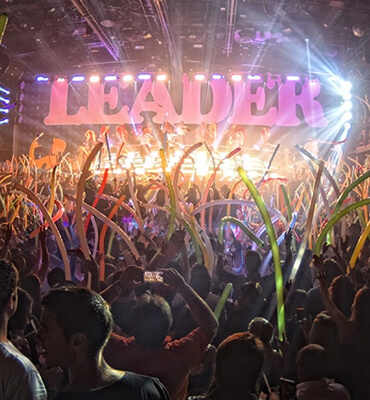 May I start by telling you that the whole concept of the Disco it's very cool, as it honours the greatest artists of all time in every single way, walking thru hallways, sitting at the outside bar, or enjoying the night shows daily, Its open bar, so You need to get early, or the lines in, are going to be insane, once in, the design of the place is like an arena, with 3 floor seating, 3 bars, one of which is in the center, and then later the night becomes another stage, the main stage its up in front of everyone, with an enormous big screen Tvs on the back, this stage has witness impersonating shows from Michael Jackson, Madonna, Beyonce, and the Iconic Mask show, dancers and singers also are acrobats,the audio and lightshow is the best that you can see anywhere, they change the shows every couple of months, but it is entertaining from beginning to end, there is an 18 + entry and casual dress wear, the open bar is actually at a reasonable price, if you consider all the shows you experience during the night. I could hang there every single night, but I had to continue with my tour.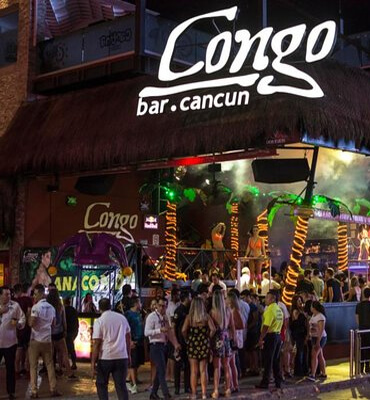 Little brother to CocoBongo, this is an open-air bar, with Go-Go dancers that invite you in, that is considered by most as the Pre Club, but don't be fooled like I was, they have their own shows and dancers, a mix of Latin, pop and electronic music is featured, No dress code, and you can dance in the Tables or on Stage, yes you heard that right, the MC allows you to go on stage and show your best dance moves.there is a cover , that can be waived if you purchase the open bar, which actually is not expensive.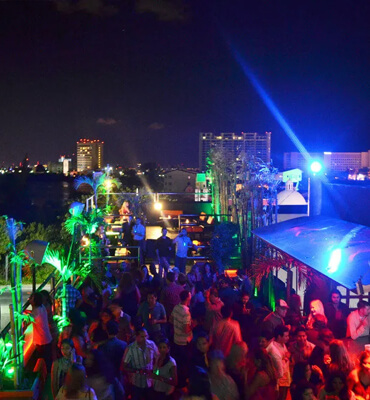 This is the party theme nightclub, located on a second floor in the party center of Cancun, they have lounge chairs and Tables, and an average big Dance floor, they have different themes every night, like the circus , lingerie or paint parties, hit music is what the DJ plays, the crowd goes to this place as an after-hours club, but its open early, so if you're with a group like I was, it is highly recommended, now here is the kicker, they have access to the Rooftop called Sky bar, there you can find another DJ, and another bar, to enjoy the beauty of the Cancun nights, average cover, and drinks, or if you prefer there is always the option of the open bar.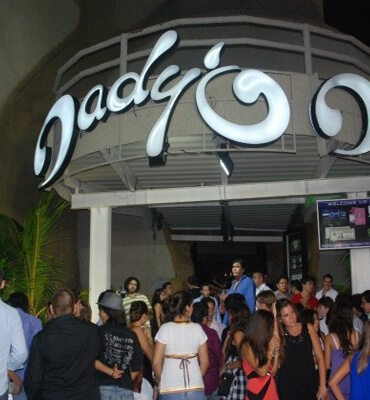 One of the longest running nightclubs in the Cancun nightlife, Dady O has a great architecture resembles an underground cavern, the music played by the DJs are oldies but goodies from the 80's and '90s, a big Dance floor, and with special nights hosting bikini contests themed parties and more, they have sweet drinks great laser show and blasts of CO2 from the ceiling, very refreshing, they have the bottle service option or the open bar, with 6 bars all around the disco, there is never long lines to get a drink.
In honor of Mardi Gras celebration, one of the best bars from the '70s is still up and going in Cancun, a classic party themed bar that resembles all the fun in the world, come for a Drink, stay to dance the night away. A small bar, with an open wall for that hot summer days, so you better get in early, because the ambiance is so good just walking by the street you can feel it and are attracted in. Regular price, and offers tasty snacks, They Said they do the best-frozen margaritas in town, but you can be the judge of that.
The newest nightclub in Cancun, mostly know to locals, a very sophisticated rooftop, with lounge sofa, and a feel-good ambiance. A little hidden, as it's in the second floor of Harry's restaurant, this is a well-dressed nightclub, that plays electronic and house music by their resident and guest DJs, a small place, but great to meet and mingle with a lot of people. Drinks are good, a bit pricey, but overall a great night of friends dancing and having fun, and it's actually very close to Club Solaris Cancun as it's only 4 miles away.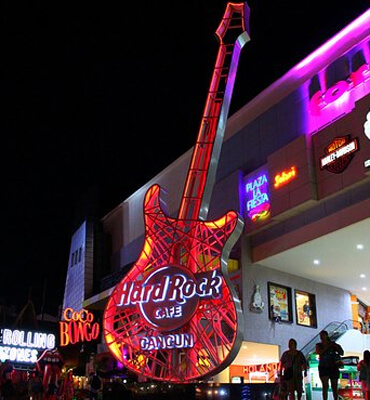 The Typical American type restaurant that offers good food like hamburgers, and ribs, but with the twist it's from Hard rock, so it has a Stage, where they have nightly Rock bands performing while you dine, people do get up from their seats and dance the night away. As a bonus, to all our Club Solaris members, here is where we are hosting the Welcome party each Sunday afternoon.
Open Air Bar, just in the middle of the party center, this a cool place decorated like a barn, and Cows all over, yes, there is even a Mascot that you can take pictures with, with 4 story levels, just like a staircase, you can enjoy the night away, here I could find the option of bottle service or Litters ( with cow splotches ) of my favorite drink and the DJs have a Great mood playing Pop and hip hop music all night long. Considered as a Pre or Afterparty, La vaquita is an excellent option during spring break.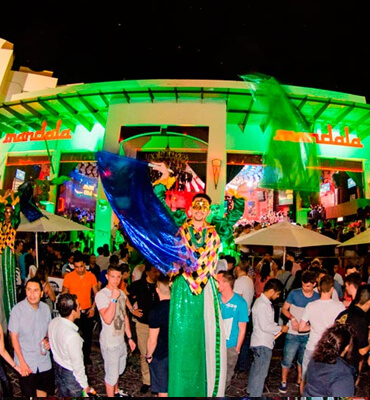 With an oriental style atmosphere this Nightclub is located in the heart of the party center, it is very classy, as you can see all the bouncers wear suits and ties, cover and drinks are above average. This bar has the feature of having a center dancefloor, that can be showcased from the outside, on 2 level stories, they have lounge couches and 5 VIP sections, including some in the front terrace, the DJ plays a pop music mix from all time. There are epic parties and special events almost daily, making it a lovely place to go out to hang with friends and have a blast.
Readers beware this is my favorite place from this list! This daytime Beach Club, opens its doors at night time once a week on Tuesdays, to pay wave to the beast party, out in the open, and in front of the Caribbean, DJ playing under the stars, with a Dance floor, a stage, 2 pools and the whole beach to dance the night away. There are lounge chairs, beds, and cabanas available. Need to say there is no dress code, as bathing suits and flip flops are allowed. For that reason, they have the best bikini contest in town. They offered bottle service and open bar, too bad I could only go there twice during my visit.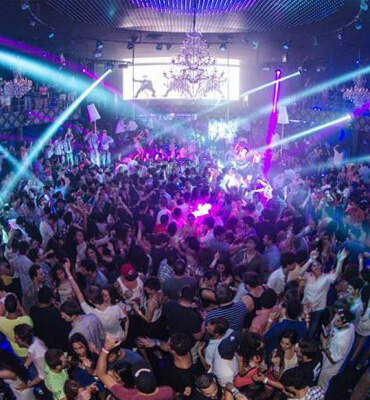 Let me tell you that to access this disco you need to go up a floor of Steps, but it is shaped like a dome, so once past the entrance, you need to go down another set of steps, there you will find a glamorous disco with big candlelights coming down from the ceiling a main stage suspended in the sky, and gogo dancers entertaining the night away. Music played by the DJs is pop/rock, and cover and drinks are above average. They have themed parties like neon night and electric boogie, the only downside, they are just open Wednesdays and Saturdays.
What a fun place to go and have a blast, like a kid, family friendly, it all starts by walking thru the boutique, then on the back end you see a swing door, and there is where you find the Restaurant bar, loaded with memorabilia and signs all over the place, surely they will get a laugh of everyone, the waiters are also entertainers, so they always quick with a joke, they even sang to me Happy Birthday, and it wasn't even November yet. They dance and invite you to join the conga line, I went on a Wednesday and guess what, they had a Foam party at midnight inside the place, don't forget to order your drinks in the famous yard. And the best was the Tab, not expensive at all.
It's the nightclub used as a group hosting Venue, they have their own kitchen, although they don't have a fixed menu. Admission to the club it's actually pretty cheap as it is Open bar, don't get too early, as the party starts after midnight, Apart from holding Bikini contests, they also have Male hot body contests. Not bad for a Sunday getaway.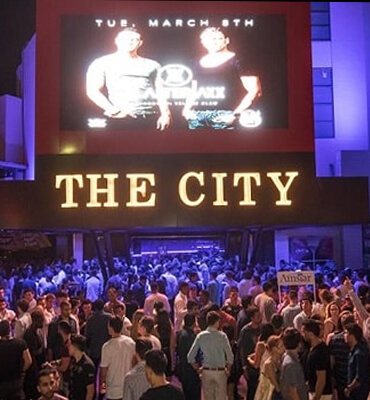 This is a massive concert hall, and its impressive because it's in the party zone in Cancun, well-known artists and DJs have come to play at this Venue, I wasn't lucky enough, but still had a great time there with the resident DJ playing pop, hip hop and electronic music, the building is 3 stories high, so you can bet that they are multiple bars there, also a dance floor that its retractable, can move from the third floor to the bottom one , it's only open on Fridays, and concerts on Tuesdays, has bottle service or open bar.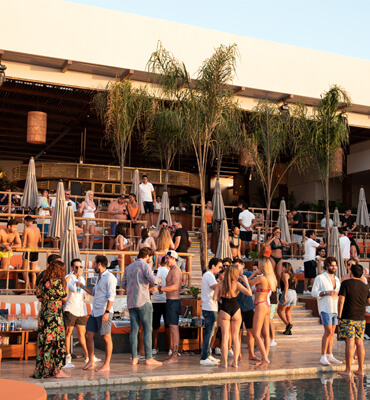 Chicabal Sunset club, this is a brand new beach club, just 2 months old, but with great potential, located on the lagoon side and away from the party zone, but nevertheless, its concept its so cool, You can arrive thru the street side, or dock your yacht, has a luxury concept, mixed in with the natural beauty of the Sunsets in Cancun, there is a cover, that it's also used as a restaurant and bar credit, to use during your stay, they only open on the weekends, and close after the sun goes down. The music it's an electronic, house and trance mixology, they have a swimming pool, cabanas, and lounge beds, the dress code is beachwear, but it's chic casual, and they are very strict about it.
Get in touch with the entertainment team from Royal Solaris Cancun, as nightly we go out in town ( they provide the transportation over there ), but the cover is on each one of us, they have different nightclubs they attend each day, so that's a plus the hotel provided our group. The departure from the hotel is a 10 pm, no exceptions so be ready to go just right after dinner.