Know more about Cabo
Cabo is the perfect mixture of rocky desert landscapes, gorgeous beaches, and a broad range of activities for all ages such as Snorkeling, Golf, Eco-tours, nightlife, and gastronomy, does Cabo San Lucas and San Jose del Cabo one of the best touristic destination of the world.
Cabo San Lucas and San Jose del Cabo have been grown as one and quikly become the most important touristic destination in Mexico, receiving 2.5 milions or tourists in 2017 and 142,835 visitors just in January of this year (2018).
The purpose of this page is to give you useful information and a vision of what can you expect when you come to visit us.

What to do in Cabos
Discover what Cabo has to offer
you on your next trip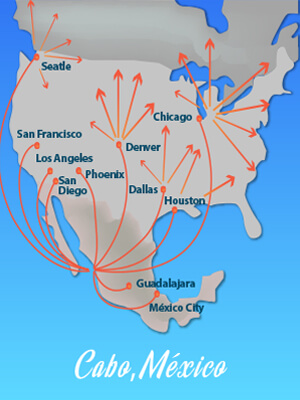 How to get to Cabo
check the ways you can
get to this beautiful mexico destination
Los Cabos (Cabo).
Located on the southern tip of the Baja California Sur Peninsula is Los Cabos., a mountainous desertic peninsula that separate the Pacific Ocean and the Gulf of California better known as the Sea of Cortez, named by Jack Cousteau as the largest aquarium in the world. For being one of the five most diverse ecosystems on the planet. This contrast of desert and sea makes Los Cabos a magical place that enchants all its visitors with its unparalleled beauty, and that also offers numerous activities to its visitors.
Cabo Wheater
Characterized by having a warm climate most of the year, Cabo has in fact, 350 days of the year there is incredibly blue and clear sky, this is why activities are always the order of the day: Fishing, Ecotourism, Diving, Zip lines, Buggies, nightlife, relaxation, family walks or as a couple. All with a perfect climate for your holidays, because the average annual temperature is around 32 degrees Celsius with a warm-dry environment. The coldest month you'll find in Los Cabos is January, when the average temperature is 25 degrees Celsius with some light rain, which makes it the ideal climate for our visitors of honor every year: the gray whale.
SAN JOSÉ DEL CABO WEATHER