The all-inclusive modality was created several years ago in tourist destinations as important as Cancun to make it comfortable for the guests in many ways, and in recent years it has become the number one choice for tourists worldwide looking to spend a few days of fun in the comfort of their resort and enjoy all that it has to offer.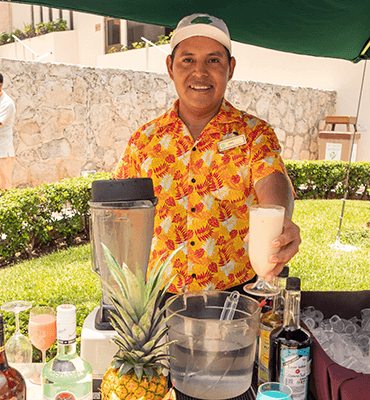 But what is an all-inclusive? It is the modality of resorts where the accommodation price includes all food, beverages and in many cases, entertainment activities without having to pay additional fees. Those resorts where you can find everything you need without having to leave the place, this allows you to rest, since everything will be at your fingertips.
Now we will tell you the most important things you will need in a Mexico all inclusive resort to spend a wonderful time with your family or friends, so the next time you can choose the resort that better fits all of your needs.
This is the most important point to enjoy a good all-inclusive resort, since you will do everything there, you will have breakfast, lunch, drinks, dining and entertainment, so It is very important that the service is good, friendly and that they make you feel at home from the moment you arrive until the time to say goodbye. There is nothing better than a friendly environment where the staff is trained to solve your doubts and give you a smile to enjoy a unique and fun experience with your family.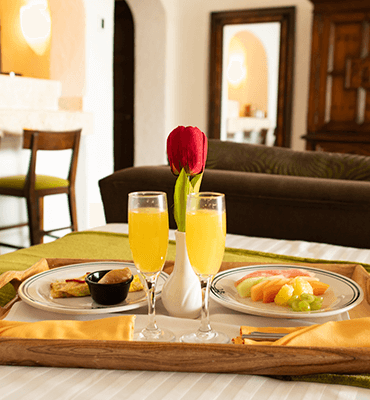 Room service is wonderful because it allows you to comfortably enjoy your room and organize your times without having to run for breakfast or to go out for dinner, especially if you are traveling with children since it is possible that their needs won't have the same timing as the others. With the room service you can solve those problems easily. Also if you travel with your sweetheart you can surprise him/her with a breakfast in bed or drinks in the afternoon while you get ready to go out. In some resorts this service has an extra cost and restricted hours. We recommend you to ask all the service details at the check in so you can enjoy it to the fullest.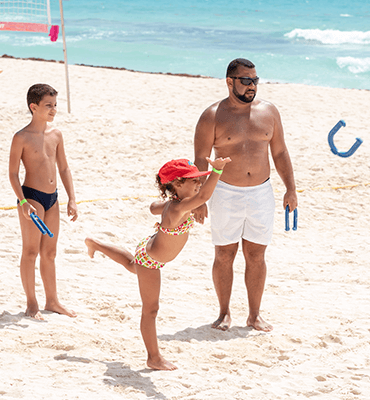 All inclusive resorts are very comfortable for family trips, therefore, there must be activities for everyone to enjoy equally, from Mini Club and games for the little ones to spa, bars and gym for adults, as well as parties and shows for the whole family. You can surely check that information out in every resort website before making a reservation so you can be prepared and make some family plans.
In all inclusive resorts, not only the food and drinks should be included, but also the fun. They usually have entertainment activities throughout the day so you will not have to worry about leaving the resort to have fun. During the day and night you can enjoy with the entertainment team the different activities that have planned for you and your family, such as volleyball matches at the beach, yoga lessons and pool games, as well as shows at night in the theater. If you travel to any of the Solaris Resorts in Cancun, we also recommend you to check out our travel agency and the great variety of tours we have available to discover the area and fall in love with the Riviera Maya.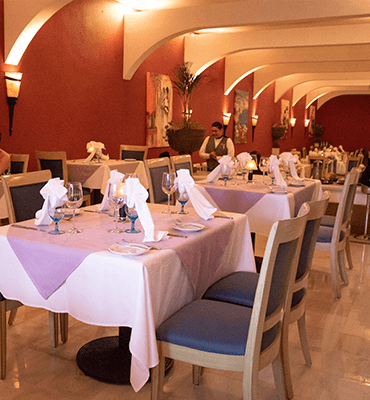 The specialty restaurants give a very important plus to the experience in an all-inclusive resort, since they allow you to enjoy a special lunch or dinner in an elegant and intimate restaurant with delicious dishes and ingredients of the highest quality and with a first class service during your holidays and in the comfort of your resort. Ideal to celebrate a special occasion or simply to spend a pleasant time with the people you love while you delight yourself with delicious dishes from different countries. It is important that you ask before if a reservation is required since most of these restaurants need a prior reservation, especially in high seasons when the occupation is at its peak.
Other things that are important when choosing an all-inclusive resort are of course, first of all, making sure that all food and beverages are included in the final price, even the specialty restaurants or premium drinks to avoid surprises at the end of the trip. It is also important to ask if all taxes and tips are included. We also recommend you to make a good research of the resort's services and make sure that it has everything that you could need, such as spa, shops, internet service, daycare and gym, among other extra services for your comfort and fun thinking that you will want to spend most of your vacation time within the hotel.
If you travel to Cancun, it's probably because you want to spend some days at the beach, so it's worth looking for a resort that has a nice beach where you can enjoy your days under the sun while enjoying a delicious piña colada.
With this small guide you are surely ready to start planning your next adventure and choose the resort that suits your needs and your family's better and if you still have any doubt, at the Solaris Resorts can find all this and more! We are waiting for you!