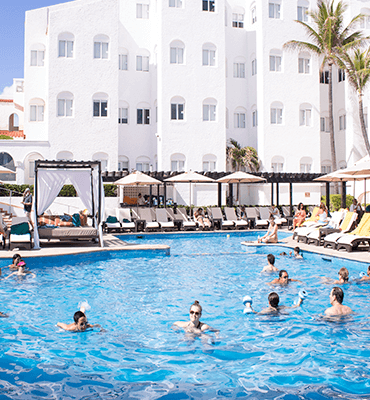 For those who seek to be active and take care of their health during the holidays, at Solaris Cancun we have an exciting surprise, a new member in the entertainment team, Jorge, he is a yoga teacher and physical trainer with several years of experience and courses in Mexico and England, he brings to our members and guests the new Solaris Go training program to exercise your body on vacation days and enjoy taking take of your health in a fun way.
The Solaris Go program will have 4 types of activities: Aquatic, Holistic, Action and Rhythmic.
The activities insider the pool may vary between aqua aerobics, that is, cardiovascular exercises with resistance in the water, other days Aqua Hit (High Intensity Training) which are high performance exercises also with water resistance, Aqua Gym where special dumbbells are used in the pool and Aqua Noodles that are a series of exercises with the help of noodle floats. These activities will be perform every day at the pools of Royal Solaris Cancun and GR Caribe in the morning time, to start the day full of energy.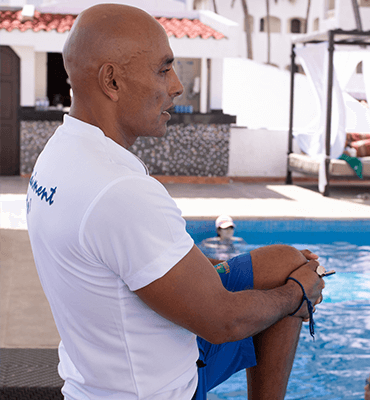 Also, as part of the Solaris Go program, you can enjoy professional Hatha Yoga classes where you will perform different Asanas or postures such as Sun salutations and warriors 1, 2 and 3. It is not necessary to have practiced yoga before and anyone can join the meditation. Some days the practice will be focused on breathing or stretching. This activity will take place every day at 9 o'clock in the morning in a peaceful space at GR Caribe.
The cardiovascular exercise routine will be on the beach 4 times a week and there will be a series of warm-ups and stretching and then calisthenic and aerobic exercises divided by days, by upper or lower part of the body and at the end of the exercises a cooling or stretching period to rest the muscles.
For dance lovers we will have special classes such as Zumba, Dance Fit, Step and aerobic dances where Latin rhythms will be the most fun way to exercise, so much that exercising your body will be the funniest activity of the day.
In Solaris Cancun there is no reason to leave the routine on vacation days, you can start your wonderful days in the Caribbean by training with Jorge and our entertainment and sports team, do not miss this opportunity, it can be the ideal time to start those New Year's resolutions. We will wait for you!